Android Virtual Devices are great for many purposes for many different people. If your interested in learning about Android and getting used to using it then you can use the Android Virtual Device. If your an App Developer you may want to use the Virtual Device to test your app on the fly. I would also recommend having a spare physical Android device on hand for a more thoral testing. But still would also test using a Virtual Device. Or maybe your just a fan of Angry Birds and your Android or iPhone is broke and you have no cash to get a new phone.
Here I will discuss how to create an Android Virtual Device. Even though you don't need eclipse to create the Virtual Device and you can do it right from the SDK, I will be using Eclipse to go along with my last two post.
If you have not yet installed the Android SDK for Eclipse I would recommend you refer to my last article called Start Building Android Apps With Phonegap. Then read this article.
Lets Get Started
First we start up Eclipse. Once Eclipse has started up we will go to Window > Android Virtual Device Manager then we will see the Android Virtual Device Manager window appear. On the right hand side of the window you will see a button that says New. Click the button and another window will open up, that will allow you to create your device.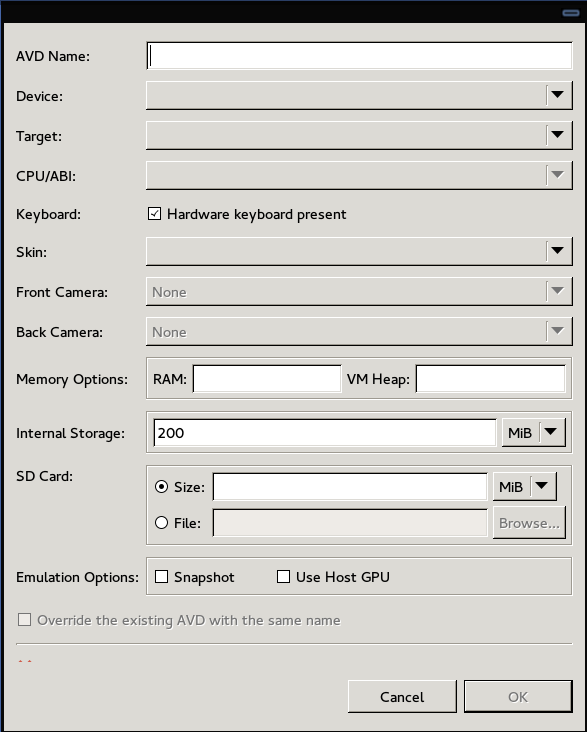 As you can see from the image above the you have many options when making your Virtual Machine. Since this is article is meant for people interested in learning to program. I will be showing you how to make two Virtual Devices with configurations I commonly use for building Android Apps. Please keep in mind that depending on the types of Apps your building some features may be needed that I have not mentioned. It is best to get your hands dirty and experiment with the different settings.
First Device
AVD Name: Android Latest (Or Any Name You Want)
Device: Nexus 7 (2012)
Target: Android 4.4.2 – API Level 19
CPU/ABI: Android Wear ARM
Keyboard: Checked
Skin: Any
Front Camera: Emulated (If You Have A Webcam option choose that since it works better)
Memory Options: RAM = 1024 | VM Heap: 32
Internal Storage: 200 MiB
SD Card: None
Emulation Options: Both Unchecked
Then click OK
Your Virtual Device has been created. You can test it out by clicking on it in the Virtual Device Manager Window and highlighting it. Then you can click the start button and the device will start up. It is a full stock version of Android running on Virtual Hardware on your computer so it may be a bit slow.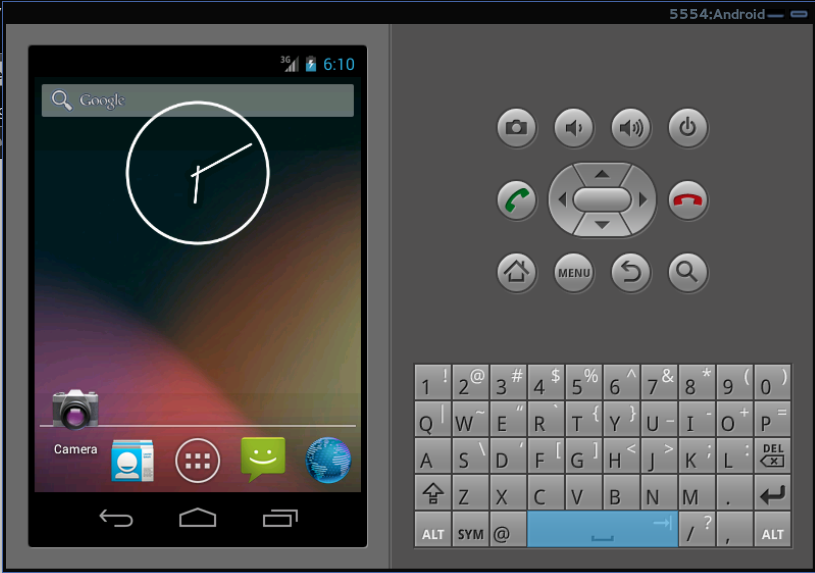 Now we will create a Virtual Device with an older version of Android. The reason we will do this is to ensure that apps that we make will work on older versions as well as the newest versions. And if we discover a version that our app doesn't work for we can document it and fix it or let users know.
Second Device
AVD Name: Android-Oldest (Or Any Name You Want)
Device: 2.7″ QVGA
Target: Android 1.1 – API Level 2
CPU/ABI: ARM
Keyboard: Checked
Skin: Any
Front Camera: Not An Option
Back Camera: Emulated (If you have a webcam use that instead)
Memory Options: RAM = 512 | VM Heap: 16
Internal Storage: 200 MiB
SD Card: None
Emulation Options: Both Unchecked
Then click OK

Notes: Known bugs in versions of Android older then 4.0 wouldn't work on screens bigger then 7 inches. Which is why many tablets where never bigger then 7 inches. If your virtual device has trouble loading adjust it's resolution and start it again.
F.A.Q
Does the Emulator have a phone number?

Yes and No depending on who you ask and what your trying to do. For testing purposes you can use the device number in the top of the device emulator. In my pictures the device number is 5554

Can I access Google Play?

Yes and you can do much more then you can on a stock Android Phone.

I can't create the Android 1.1 VM

You may need to install the obsolete packages. You can do this by going to Window > Android SDK Manager and selecting the option that says Obsolete. Then install them and accept the EULA
Resources